You can play more easily with one-time paid VIP package. Normal price is $39.99. But sometimes it's on 50% off for $19.99. and if you plan on playing the game, it's worth the money (But this is a very personal decision).
You can try the VIP Package Trial for the first time.
If you are looking for VIP bitizen, visit the link.
Benefits
Edit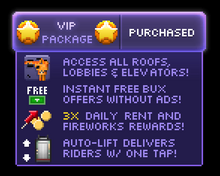 Auto-Lift Edit
With just one tap, the rider can move directly to the desired floor. Auto lift applied when you visit friend's tower, also when your friend visits your tower.
3x daily rent and fireworks rewards Edit

It's more than you first thought. The number of fireworks cumulate every day.
Access all roofs, lobbies & elevators Edit

All skins must be purchased with Bux, but VIP users can use it without buying. Include special event skins. (Halloween, Christmas, etc.,)
Instant free Bux offers without ads Edit

It becomes easy to collect Bux. When you tap on the ad invitation button, the ad does not play but Bux comes in immediately.
Selective build Edit

When you
build
a new floor, you have the right to choose a particular store or apartment. (Even if you don't buy it, you can play mini game : Floor
predicting
. )
Is the VIP Package worth?- Yes when it's in 50% sale, it has tremendous advantages and you help NimbleBit, but this is up to you, a very personal choice.
How to buy it lower price.
Edit
In a VIP package trial, you always can buy it for 50% off price($19.99).
If your trial ended and you waiting for 50% off. You can try this.
Activate the Cloud in the menu (IMPORTANT)
Close Tiny Tower App and Delete it (include Data)
Reinstall Tiny Tower
Start a new game and activate the VIP Trial in the menu
Now, You can see 50% off in VIP package. Buy it
Activate Cloud and restore your tower
Be sure you have synced your tower to the cloud, then clean the Tiny Tower cache and open it again.
Community content is available under
CC-BY-SA
unless otherwise noted.