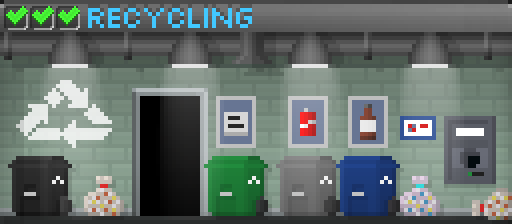 The Recycling is a Service floor. There are large bins for recycling different types of objects, posters that indicate what goes in what bin, bags of recyclables on the floor, and a machine for aluminum cans. There is also a large recycling symbol painted on the brick wall.



The Recycling stocks:
Stock
Missions
#
Mission
Bitizen
Description
Requirements
Bux earned
31
Earth Day 2012
Your tower is going green for Earth Day! We need:
1,710 Hanging Plant (Plant Nursery)
8,100 Cans (Recycling)
9
71
Feel The Earth
Bitizens are one with the Earth. They need:
3,600 Mountain Bike (Bike Shop)
8,100 Cans (Recycling)
18,000 Glass (Recycling)
20
Achievements
There are no Achievements associated with this floor.