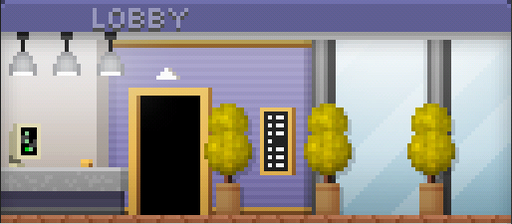 The Lobby can hold 5 VIPs /bitizens sent by friends to use whenever you want.


Missions
There are no Missions associated with this floor.
Achievements
There are no Achievements associated with this floor.
Appearance
When the player first begins, they will start out with the Standard Lobby, which looks like an average real-life lobby. It can be upgraded into different looks using Tower Bux. Buying the Vip Package unlocks all of them. The upgrades do not provide any benefit other than decoration.
Picture
Name
Cost (Bux)
Roman
500
Fun Fair
700
Farm
700
Island
700
UFO
700
Tah Majal
700
Art
700
Greek Temple
700
Jungle Temple
700
Egyptian
1000
Standard
1000
New York
1000
China
1000
Europe
1000
Russia
1000
Nasa
1000
Neon
1000
Dojo
1000
Waterpark
1000
Tree
1000
Monster
1000
Halloween
VIP Package or

Halloween Event

Holiday
VIP Package

or

Christmas Event